Drawing File Format
There are no changes to the drawing file format so it is backwards compatible with both AutoCAD 2004/2005. This helps to make migration easier from AutoCAD 2004/2005 to 2006.
Customization Compatibility
Unlike the move from AutoCAD 2002 to 2004, customization should work with very little effort from AutoCAD 2004/2005 to 2006. This means ObjectARX files are binary compatible between versions which should help protect software add-on purchases that were made with the jump to AutoCAD 2004. This does not guarantee that the developers of the software will allow the software to run under AutoCAD 2006 without an additional upgrade fee.
Side-by-Side Install
AutoCAD 2006 can be installed side-by-side with any of the AutoCAD 2000+ based products, AutoCAD 2004 based products and AutoCAD 2005 based products. This allows for easier migration and supporting of the software in a multi release environment.
Multiple Versions of AutoCAD Help can be Running
For many years now even with Side-by-Side support you could only run Help from one version at a time. So if you launched Help from AutoCAD 2002 and then tried to launch Help from 2004 it would only flash the 2002 Help in the Task Bar and not launch the 2004 Help. With 2005 and now 2006 they have renamed the Help file from "acad.chm" to "acad162.chm" (or "acad161.chm" for those using 2005) to avoid this problem.
Operating System Support
AutoCAD 2006 does not support any of the Windows 9x operating systems, Windows ME, Windows NT 3.51 and Windows NT 4. You need to be running Windows 2000, Windows XP Professional, Home or Tablet PC Edition with the latest Service Packs to get the most out of the software.
Migrate Custom Settings
The Migrate Custom Settings interface that was first introduced with AutoCAD 2005 is back once again. This tool is great for migrating custom settings that the user might have setup under a previous release. It is run the very first time after the new version has been installed. It looks at the local machine to find out what versions of AutoCAD are available to migrate settings from. It will go all the way back to AutoCAD 2000 up through 2005. It will only look at same applications, so you can only migrate settings between AutoCAD versions and not AutoCAD and a vertical product like ADT.
Express Tools
Express Tools are back for another round in AutoCAD. There havenít been any changes that I have noticed, but the nice thing is that they are now part of the install for AutoCAD instead of being separate. This will make the installation process go much smoother.
New Features Workshop
If you are not new to AutoCAD you might remember the Learning Assistant that was introduced back in AutoCAD 2000i. The tool was used to introduce you to both new and old features in the software. The tool then disappeared from the package for a release and was reintroduced as the New Features Workshop in AutoCAD 2004. The layout of the New Features Workshop is designed to help new and existing customers from previous releases to understand some of the new features in the release. The feature can be disabled at the time the install is done, but with the information that is found in the feature it would be silly to do so unless space is an issue.
<Click on the proceeding image to open a larger version>
Customer Error Report (CER) Tool
The AutoCAD Error Report tool is present in AutoCAD 2006 and has been helping Autodesk to improve the product. They are using the crash reports to help make their product more and more stable with each new release. Unlike the one built-in Windows XP, the information is sent directly to Autodesk about the problem that was encountered in the software. These reports also help to identify critical crashes and get updates out in the form of Service Packs. This feature can be turned on and off via a System Variable called REPORTERROR.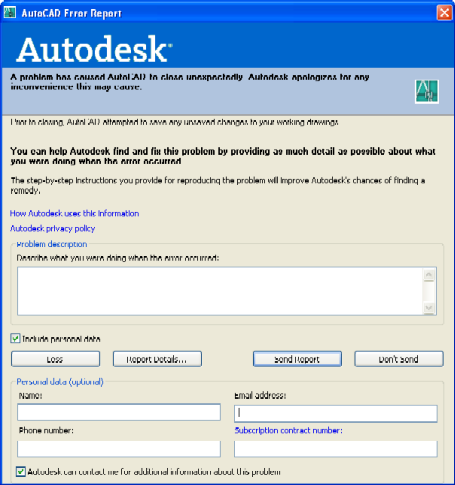 <Click on the proceeding image to open a larger version>